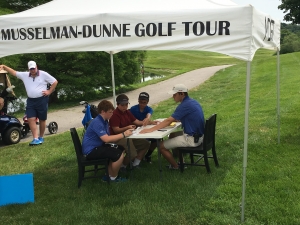 How many times do you arrive to the golf course with an "idea" that I'm going to shoot a certain number? "I'm shooting a 67 today."  "I'm going to go low." Insert any general statement about "what you are going to do" and you have set yourself up for an unrealistic expectations, not to mention unnecessary, prior to playing the round.  We all know that golf is a game of fortunate and unfortunate bounces, which are out of our control, and by predetermining what a certain result is going to be in the future has proven to be more harmful than helpful with managing what you can control, your process.  But that's another blog…
The point today is can you "go low"? How many times have you been under par?  Have you trained to do so by playing the most forward tees and "go deep"?  Recently I came across a great article written by Brendon Ryan (Golfer) that looked at the top ranked players in the world and their home course (when age 12-16) yardage's and found that most averaged under 6700 yards with a slope of 132 allowing for plenty of birdie opportunities when learning how to play.  We couldn't agree more.  Before you shoot under par in a tournament, most likely not on your home course, you must be able to shoot under par on your home course and not just 1 or 2 under having done it once or twice.  Learning how to score is a skill, something that you can improve, and regardless of your age and ability it is heightened by playing a shorter golf course (9-holes from 200 yards all par 4's or forward tees) and getting into that mindset of making birdies on top of birdies.  Your scoring mindset is more important than your physical golf swing skill set.  There is a lot more truth in your "I'm going to.." statements about your golf game when you have trained yourself to do so and it is without question that being truthful about your game is the HOW to play your best!
Play it forward and see how low you can go.
Top 5 Players in World
1. Justin Rose – 6250 yards
2. Brooks Koepka – 7400 yards (why he hits it far)
3. Dustin Johnson – 6800 yards
4. Justin Thomas – 6645 yards
5. Rory McIlroy – 6065 yards